The 2nd Worthing Scout Group was formed on the 15th. March 1923 when the 1st. Worthing Scout Group, based in High Street, Worthing, who then had a membership of 82 scouts, was split into three, with the 2nd. and 3rd. Worthing being the two new groups formed.
The Headquarters, on a site in Elm Grove, between the newsagent and Elm Grove school, was made up of two linked wooden huts from the first world war, and erected in September 1924, was to be the H Q of the Group for the next 53 years.
Since 1922, Wolf Cubs used to meet in St. John's Mission Hall, Elm Grove, but in 1924, when their numbers had increased to 48, they were split between the 1st. and 2nd. Worthing.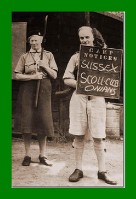 Hubert (Bert) A. Puttick, pictured with his wife Pat, was the Group's first Scout Master. Nearly 30 years later, he became District Commissioner of the Worthing District, serving from 1952 to 1958.
Also in the 1950's, Bert Puttick produced two District 'Gang Shows' at the Pier Pavilion, the first in 1951 was 'We'll Live for Ever', and then in 1957, the 'Fifty – Fifty Show'.
In 1949 the 2nd Worthing Scout made a trip to Holland in the picture is one member still connected to the Group after all those years.
In 1973, to mark our 50th. Anniversary, the Group was given permission to wear 'The Golden Elm' badge on our blue and green neckerchieves. The Elm Tree represents our 53 years in Elm Grove, and the Gold colour represents our 50th. Anniversary.
In 1977, after some years of serious fund raising, the Group moved into its new Headquarters in Bruce Avenue. The old huts were demolished, and flats erected on the site next to Elm Grove school.
Our new 'dream home' was officially opened by Mr. Ken Stevens, then Chief Executive of the Scout Association, and a past member of the 2nd. Worthing Scout Group. The headquarters were named after Tubby Lyne, who had spearheaded the fund-raising, as Group Scout Leader from 1964 until his untimely death in 1984.
Many Group Scout Leaders have laid down, and added to, the foundations of the Group, and we will not forget their words of wisdom, to be proud of our movement, our Group and our young people, to put as much into Scouting as we get out, and above all, to have FUN!
Group Scout Leaders over the years:
Bert Puttick
Cyril (Skipper) Harvey
Charles Marriott
Henry (Tubby) Lyne
Mike Budd
Steve Joice
Andy Budd